Spring is just around the corner and with some restrictions lifting, we can get back to dating outdoors (safely of course) and what better for a safe outdoor date than a picnic for two. With this in mind, we've got some great picnic recipes for you and your partner to share. We recommend evening picnics so you can add some romantic candles and enjoy the stars! Please note that depending on restrictions where you live, you might want to keep this picnic for the backyard only.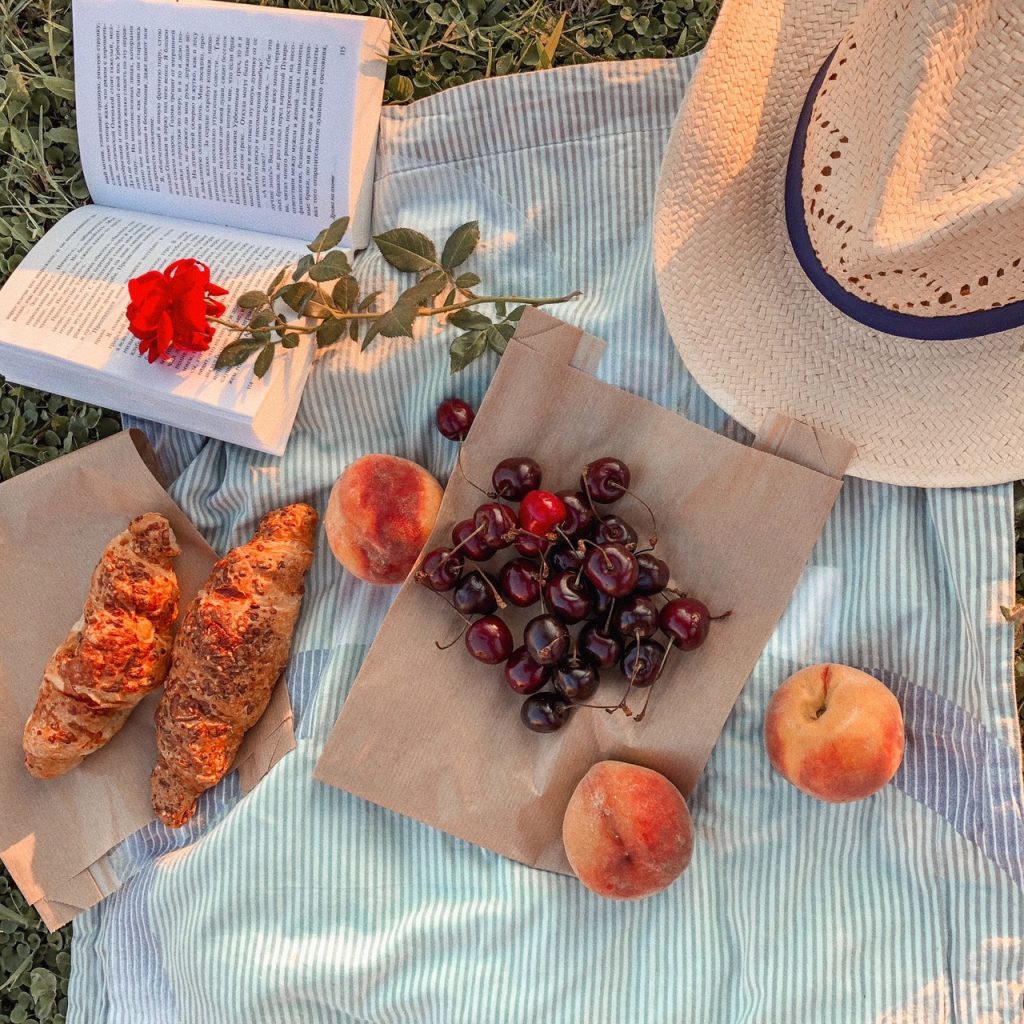 1 – Caprese Sandwiches (Difficulty 1/5)
4 large Crusty Bread Rolls
3 tbsp Basil Pesto
1 cup Baby Spinach
8 oz Sliced Fresh Mozzarella (approx. 8 slices)
2 med Sliced Tomatoes (approx. 8 slices)
1/2 cup Basil Leaves
Directions:
Split your buns, layer ingredients, it's a sandwich – not too tricky! Add extra condiments to taste (balsamic, mayo, etc.)
2 – Mason Jar Sangria (Difficulty 1/5)
2 Mason Jars (1litre)
1 Bottle Red Wine
3 oz Brandy
2 cups of Chopped Fruit
1 cup Orange Juice
1 cup Ginger Ale (approx 1 can)
Directions:
Split the fruit, brandy, orange juice, and wine evenly between your mason jars and refrigerate until ready. If you like your fruit very boozy, make it the night before. Top your wine mix with ginger ale when you're ready to drink.
3 – Pasta Salad for 2 (Difficulty 2/5)
Salad:
1 cup Uncooked Pasta (any shape)
1 Chopped Bell Pepper
1/4 cup Chopped Red Onion
2 oz Feta Cheese
1/2 cup Fresh Chopped Basil
Dressing:
3 tbsp Olive Oil (extra virgin)
3 tbsp White/Red Wine Vinegar
2 tsp Dried Oregano
1/2 tsp Salt
1/2 tsp Black Pepper
Directions:
Cook pasta to al dente (cooked through but firm), rinse, drain and set aside. Once the pasta is completely cool, stir to make sure it isn't sticky, then add your bell pepper, red onion, and basil. Save your cheese.
Separately in a bowl, whisk oil, vinegar, oregano together and pour over your pasta salad. Mix thoroughly. Top with feta cheese and serve cold.
4 – Mini Quiches (Difficulty 3.5/5)
2 Standard Muffin Tins
1 Pack of Puff Pastry (375g)
1 1/4 cup Grated Cheddar Cheese
7 Cherry Tomatoes
1/2 med Bell Pepper
3 large Eggs
4oz Milk (Semi-Skimmed)
Directions:
Preheat oven to 375. Unroll your pastry sheet onto a clean counter and roll with a pin until slightly thinner. Cut out circles using a pastry or cookie cutter approx 4in wide (should make about 14 circles), reroll leftover dough and continue cutting until you've used it all. Press the dough gently but firmly into your muffin trays. Place into the fridge to rest while you prep the rest.
Slice your cherry tomatoes in half and chop your pepper into small pieces, set aside. In a bowl, whisk your eggs and milk together with a pinch of salt.
Remove your tins from the fridge and sprinkle cheese into each pastry shell, then top with a pinch of black pepper. Pour your egg mixture over top of the cheese, making sure all your cups have an even amount. Place one tomato slice in the center of each cup and sprinkle your bell pepper around it. Bake for 25min or until the top is golden and pastry is cooked through.
5 – Tomato Galette (Difficulty 4.5/5)
Pastry:
2 1/2 cups All-Purpose Flour
1 cup Unsalted Butter (very cold)
1 pinch Salt
1 cup Iced Water (approx)
Filling:
1 1/3 cup Ricotta Cheese
2 cloves Sliced Garlic
1 med Red Onion
3/4 cup Bread Crumbs
6 large SlicedVine Tomatoes
Glaze:
Directions:
To make dough:
In a food processor pulse together flour, salt, and cubed cold butter. Pulse until the butter is mixed and the size of peas. Add 1/2 cup of water and pulse until mixed, then add remaining water slowly until it barely comes together. Transfer to a lightly floured surface and form a ball – do not over knead. Wrap in plastic and refrigerate a minimum of 1hr or up to 3 days.
If you do not have a food processor you can replicate this process using a pastry cutter or fork. Just take care to keep the mixture as cold as possible.
To make galette:
Preheat oven to 350. Heat a frying pan on medium heat and gently cook onion with a pinch of salt for about 5min. Add sliced garlic and cook about 2min more, taking care not to burn. Set aside to cool.
Remove pastry from fridge and roll onto a lightly floured surface until it is approx. 14 inches in diameter. Carefully transfer to a lined oven tray. Distribute the breadcrumbs on the base of the pastry in the center, leaving approx. 2 – 2.5in clean around the edge. Build your filling up on top of the breadcrumbs starting with your cooled onion and garlic mixture, then your ricotta, topped with your sliced tomatoes.
Fold the pastry edges up from the sides, gently overlapping at intervals to create a border holding in your filling. Season the tomatoes with salt and pepper and drizzle with olive oil. Brush the pastry with your beaten egg for a golden glaze. Bake for approx 40-45min or until pastry is golden and cooked through.
Allow to cool fully before slicing.